TWinAmp3 3.02
TWinAmp3 3.02

+ Work with winamp playlist like with filesystem. Just copy whatever to plugin filesystem. All supported files can be added to Winamp playlist. Also you can copy files from playlist and delete it as usual!
+ MP3 ID3 tags editor. Just press Alt+Enter on mp3 file to call editor.
+ Saving playlist. Type "save" in commandline, and playlist will be saved in specified directory.
+ User columns support (NEW!). Now plugin support custom columns with mp3 ID3 tags. You can configure it in Custom columns section of TC Options.
+ Thumbnails support (NEW!). Press Ctrl+Shift+F1 in plugin filesystem, and plugin will search for tracks associated thumbnails.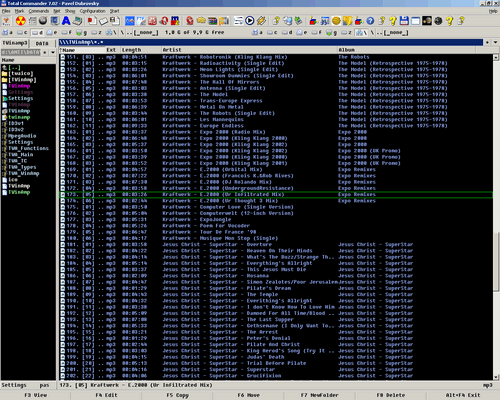 What's new