MAIL_WFX 0.99b6
MAIL_WFX 0.99b6

The plugin is intended for work with mail accounts via POP3/SMTP directly under in Total Commander.

Following features supported:
- Viewing information about the messages in the user columns without messages delivery (download only headers -> reduction of traffic).
- Removing messages from the server.
- Messages delivery from the server.
- Viewing size of a mail box without uploading messages.
- Saving messages in eml-files.
- Message viewer.
- Message editor/sender.
- GMail supported.
Category: TC File System Plugins
Status: freeware
Author: Pavel Dubrovsky
Added: 14.01.2007
Updated: 5.02.2007
Downloaded: 50715 times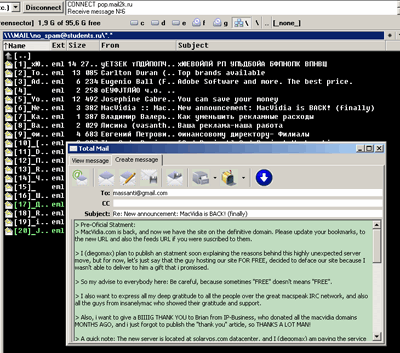 What's new