XPStyle Icons Pack 1.0
XPStyle Icons Pack 1.0

The icons library in Windows XP style for Total Commander. It includes both ICL file for changing the files and folders appearance, and DLL file with pictures for drive buttons. All the pictures (except drives') are present in two variants - 16x16 and 32x32, in 32-bit color mode with alpha channel of transparency. This is why the library is suited only for Windows XP and later versions: the previous ones do not support correct work with transparency.

One surely will ask, what a need is there in one more XP-styled library when there are several such ones already? I'll answer:
1. The package contains both 16x16 and 32x32 icons that is not very common among the TC icons libraries.
2. In some libraries the icons were edited very inaccurately, and that caused appearance of "denticles" or black border around the pictures. In XPStyle pack you won't see this.
3. All the images (except for the main icon) are taken from Windows itself and were edited so that they correspond the main single style and are minimally different from the WinXP style itself. (Of course, this point is a very subjective one, but this is inevitable.)
4. This package contains both ICL and DLL files that gives the possibility to set at one step the XP style both for drive buttons and for the main interface.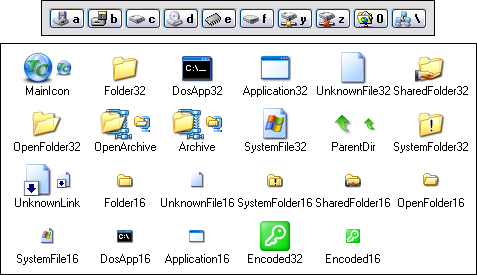 Free stuff blog is the best place to find freebies, freeware, free stuff, samples, downloads, email, games, free software, fonts, Webmaster freebies, sweepstakes, contests, coupons, catalogs.